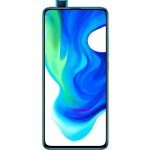 100%Hodnotenie produktu: 100%
Odporúča produkt
Rychly
Bez diery v displeji
Fotky prekvapivo dobre, pouzitelne
Kapacita akumulatora
Nalepena folia a obal na telefon v baleni
Displej +Always on
Vysuvacia kamera
MIUI – citit, ze je to slabsi sw vs OnePlus, Samsung
Hmotnost
Vibracie
Vyborny telefon. Obaval som sa kvality fotografii, ale bolo to zbytocne. Samozrejme nerobi spickove fotky, ale su aj tak slusne, nerozmazane, farebnost a dynamika OK.
MIUI je slabsi oproti OxygenOS z OnePlus alebo v porovnani so samsungom, ale tiez to nie je tragedia – da sa zvyknut a ma drobnosti co potesia (Da sa nastavit dvojite stlacenie power button – rozsvieti baterku … dvojite stlacenie volume down spusti fotak pri zamknutom telefone)
Inak telefon je velmi rychly, vydrz na bateriu super, displej tiez slusny.
Nie je ani moc velky, jedine co ma prekvapilo je vyssia hmotnost a velmi nevyrazny vibracny motor.